Enterprise mobile messaging
Crypho is a super-secure enterprise messaging app, perfect for organisations that care about data privacy and security.

Employees can communicate and share files online either person-to-person or in persistent team-rooms.

All messages and files are encrypted before being transferred over the network. They can only be decrypted when they reach their intended recipient. Only you hold your encryption keys.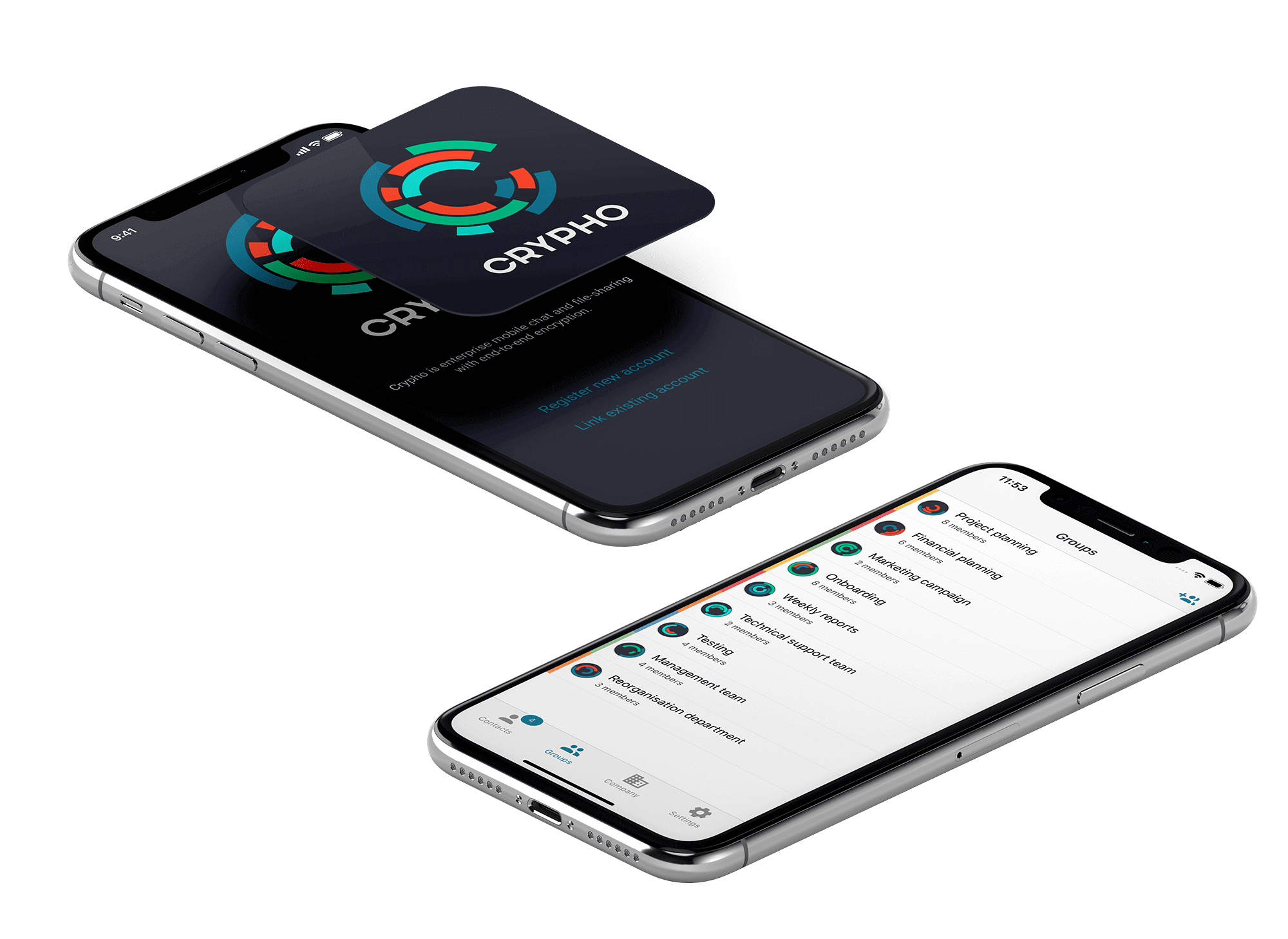 ---
End-to-end encryption not even we can read
All messages and files are encrypted on your device before being transferred over the Internet. They can not be decrypted and read before arriving safely at your intended recipient. No one else has access to your encryption keys. Not even Crypho's own staff. Key management and encryption happens automatically. You don't have to worry about safeguarding keys.

All information transferred or stored is encrypted with AES with random 256-bit keys on your phone or computer before being transferred over the Internet. Crypho's staff never handles or has access to your keys. Key exchange happens through ElGamal Elliptic Curve Cryptography. Additionally, all communication runs through SSL/TLS to safeguard against potential man-in-the-middle attacks.

More details on Crypho's security
Multiplatform: Desktop, mobile and web
Crypho is a Software-as-a-Service. It can be used through a normal web browser, with an installed desktop app, or on your mobile device of choice. Your contacts, conversations and files are instantly synchronized and available across all your devices. We have kept the mobile app easy, intuitive and secure. For the best experience, use both the mobile and web app in combination. They stay seamlessly in sync so you can use a keyboard when you are by your computer, and bring your chat with you on your phone when you are on the move.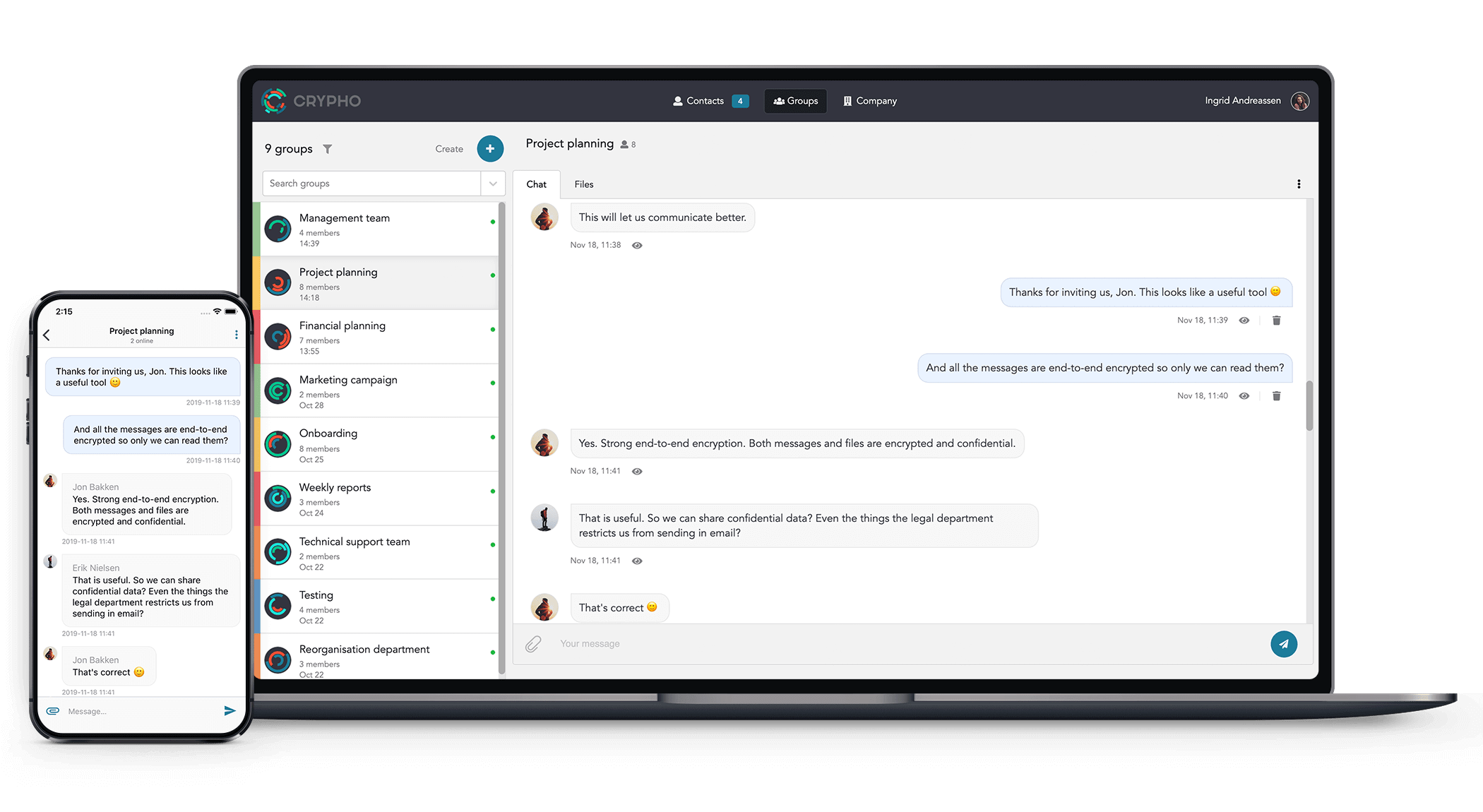 Instantly accessible
Establish an encrypted communications channel in a few minutes. No software installation is necessary. Crypho runs in normal web browsers, desktop or mobile. It works through firewalls and across different company networks.
Chat rooms (Groups)
Chat-rooms for invited members only with a shared file folder. Send confidential messages in real time. Share with individuals or teams. Groups are never announced publicly or visible to anyone beyond its members.
Highly secure
All information transferred or stored is encrypted with AES with random 256-bit keys on your phone or computer before being transferred over the Internet.
Super simple file transfer
Encrypt and transfer files with a keypress, or simply by dragging and dropping them on the app. Teams can keep a shared folder of strongly encrypted files.
Notable customers
When it comes to carrying out our daily business of sharing sensitive information internally and with our global customers, Crypho is the best solution out there. They have security in their DNA and I can highly recommend them.
Kim Daniel Engebretsen,
Chief Information Security Officer at Nagarro
We previously relied on PGP for secure customer communication. This took a long time to deploy and was cumbersome to use.
We received a lot of good feedback on how easy, fast and efficient Crypho is to use for daily communication and file sharing.
Christian A.Holm Hansen
Security Manager, Watchcom
Both to us and to our patients, using Crypho feels safe. Crypho furthermore provides very efficient communication of medical information.
Hans Ivar Hanevik
Medical Director, Fertility department, Telemark hospital
Globally trusted
Crypho is used by financial institutions, journalists, lawyers, software companies and human rights activists in more than 70 countries. Crypho has users in Norway, USA, United Kingdom, Germany, Greece, India, Mexico, France, Australia, Romania, Spain, the Netherlands, Sweden, Brazil, Finland, Canada, Austria, Poland, Ukraine, Slovakia, Czech Republic, Denmark, Hungary, Argentina, South Africa, Russia, Venezuela, Cuba, Belgium, Portugal, Israel, Iraq, Cyprus, Chile, Estonia, Morocco, Philippines, Egypt, Thailand, Pakistan, Zimbabwe, Serbia, Slovenia, Ivory Coast, Switzerland, Colombia, French Polynesia, Algeria, Indonesia, Kenya, Saudi Arabia, Cameroon, Georgia, Turkey, Sri Lanka, Tunisia, Papua New Guinea, Peru, Libya, Croatia, Yemen, Hong Kong, Ecuador, Uruguay, Ghana, Mauritius, United Arab Emirates, Iran, Armenia, Ireland, Azerbaijan, Nigeria, Réunion, Bangladesh, Bulgaria, Bosnia and Herzegovina, Belarus, Syria, South Korea, Senegal, Sierra Leone, Sudan