Back to main blog list
Brussels, October 22, 2015: The IPACSO Consortium announced the 2015 Champions of the European Cyber Security & Privacy Innovation Awards.IPACSO Innovation Awards is a prestigious international innovation award within the field of information security in the EU. Crypho was awarded the prize for the most Innovative Privacy Company.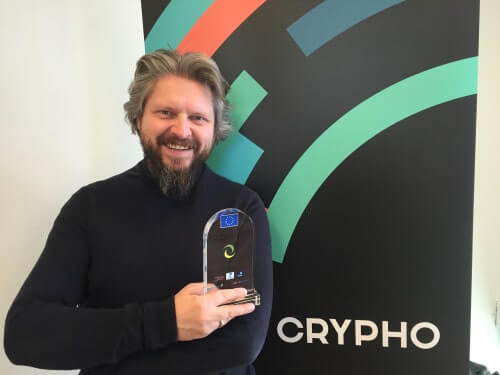 The jury praised Crypho for combining high security and strong cryptographic requirements with the approachability and ease of use that is common in consumer applications; making it end user friendly, protecting all communications validated by law enforcement, government, financial industry, but also human rights groups and journalists around the world.
CEO of Crypho, Geir Bækholt was presented with the prize by Mr. Jakub Boratynski, Head of the Trust Unit of the European Commission, at the IPACSO conference in Brussel at Living Tomorrow; Brussel's innovation center demonstrating visions of the future.
Mr. Boratynski stated: "It makes me humble to be in the presence of these individuals that are setting the trend in the Cyber Security & Privacy Markets."
"A great appreciation towards the achievements of these innovators, and their hard work helping Europe to protect its networks, critical infrastructure and citizen's privacy. But that also strengthen the competitiveness of the European Cyber Security market with their innovative ideas, approaches and technologies towards cyber and privacy; increasing employment and export opportunities while establishing exiting new businesses that have a global potential."

European Cyber Security & Privacy Innovation Awards are awarded by IPACSO.
IPACSO is an innovation project funded through the EU commission's FP7 programme. The project is collaboration between Deutsches Institut für Wirtschaftsforschung, Waterford Institute of Technology, Vasco Data Security, Espion Group and LSEC