Open position: Web/mobile software developer
2018-12-05
We are seeking a web & mobile software developer to join our team in Tønsberg, Norway.
About Crypho
Crypho is a Norwegian startup company that develops software for end-to-end encrypted messaging and file-sharing.
What sets Crypho's software apart from similar systems is an uncompromising focus on security: All messages and files are encrypted before they are transferred over the network. They can only be decrypted when they reach their intended recipient. Since only the users themselves hold the encryption keys, no-one else can access the data, not even Crypho's staff. Crypho is available as desktop and mobile apps, as well as on the web.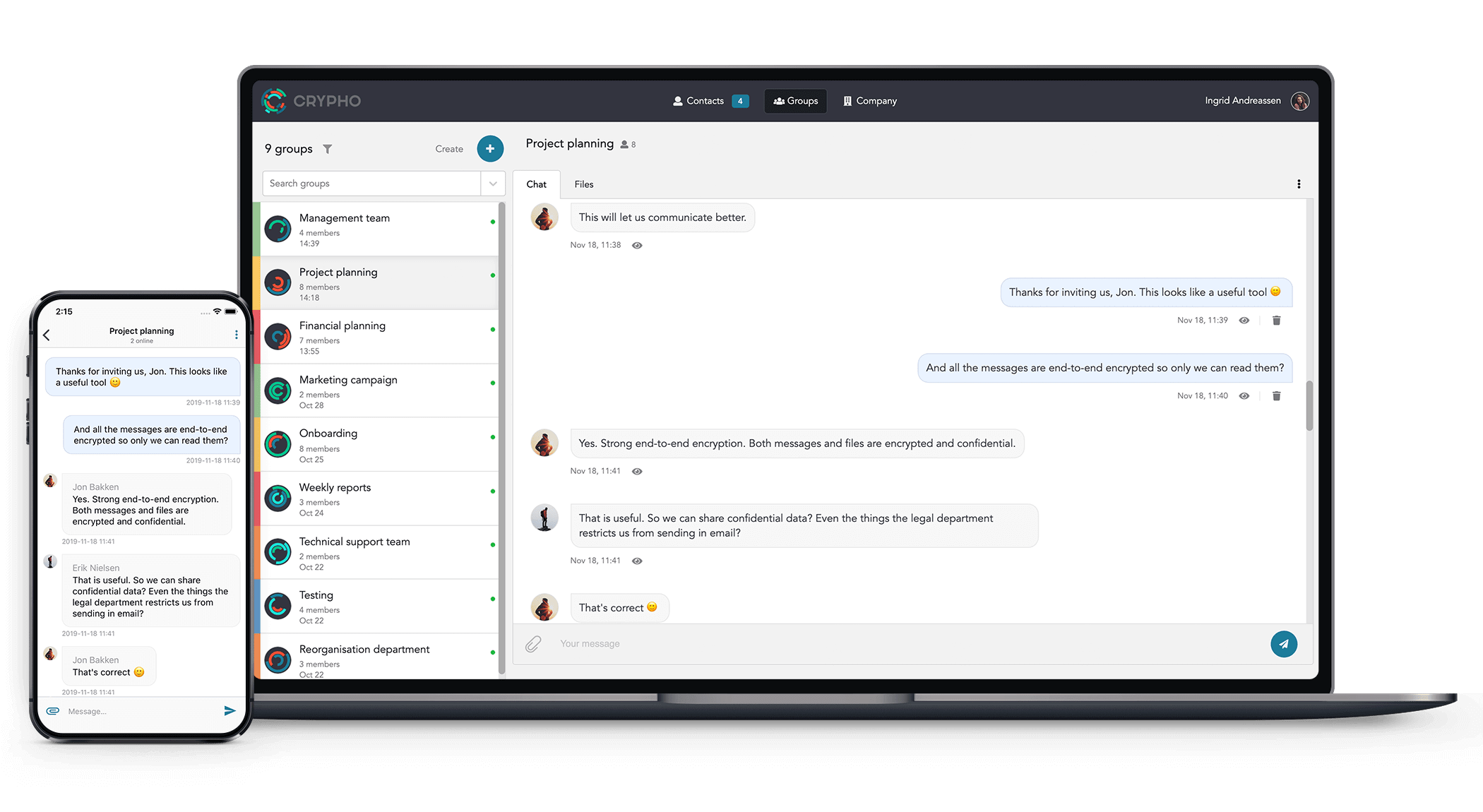 We help some of the most demanding customers in the field of information security communicate confidentially and securely. We have happy customers both in Norway and Internationally. Crypho is growing fast and aims to make international impact.
Crypho has received high international acclaim. We won the prestigious Norwegian Rosing award for cybersecurity in 2015, as well as the EU commission's Cyber Security & Privacy Innovation Award. Forbes Magazine recently classified Crypho as one of Norway's most exciting and promising startups.
Team values
The Crypho team is small and efficient, so you will have influence, responsibility and personal freedom. We have no large hierarchies, long processes or office politics. We care about each other. We go above and beyond to make sure that the things we build solve actual problems, not just that the tests pass. We collaborate, work together, give direct feedback, and grow as a team. We enjoy working together, laugh with and at each other, respect each other. We try to make awesome world class software while having a good time at the office.
We have a history of open source contributions. Software we wrote is used in universities, companies and governments around the world.
Product and technology
Crypho is a SaaS product for mobile (Android and iOS), desktop (Windows, Mac OS) and web. Our technology stack is based on React, React Native and a Linux server cluster.
The position
We are expanding our developer team in Tønsberg, Norway. We are looking for a hands-on developer with experience building applications with React. We are searching for a do-er that can build software that works. You will be involved in ideas, planning, architecture, software design, coding, testing and deployment of software.
Skill and productivity are more important to us than a fancy CV. You have a track record of developing actual software solving actual problems.
Required
Javascript
React and relevant frameworks such as Redux
Mobile development
Web development
Ability to work closely with others and communicate well. Expect to be pair-programming often
Sense of humour
Bonus
Native mobile development on Android/iOS
Open Source contributions
Python
Information security and cryptography
XMPP
Docker
Test Driven Development
Chaotic good alignment
We are a multilingual company, with English being the primary language in the office. Norwegian is not required. You will be able to work with your preferred operating system and your preferred editors, building high-end software together with an experienced team.
We offer competitive pay, 5 weeks vacation, high-end equipment and attractive offices in the middle of Tønsberg.
Send us an email at jobs@crypho.com with your Github account and a CV or a link to your LinkedIn, plus any other relevant information you would like us to see. Show us things you have built. Please apply before January 10th.
We'll be happy to take applications from outside Norway and also outside the EU/EEA. You will have to be prepared to relocate.
No recruiters or remote development companies please. We are looking for in-house developers to join our team.