Open position: UI/Frontend developer
2021-03-26
Crypho is an app for end-to-end encrypted communications for enterprise and government organisations. It is available for mobile (Android and iOS), desktop (Windows, Mac OS) and web. Our technology stack is based on React, React Native and a Linux server cluster.
We are expanding our team and are searching for two mobile & web software developers to join us in Tønsberg. You will be part of a small and efficient team, where you will have influence, responsibility and personal freedom.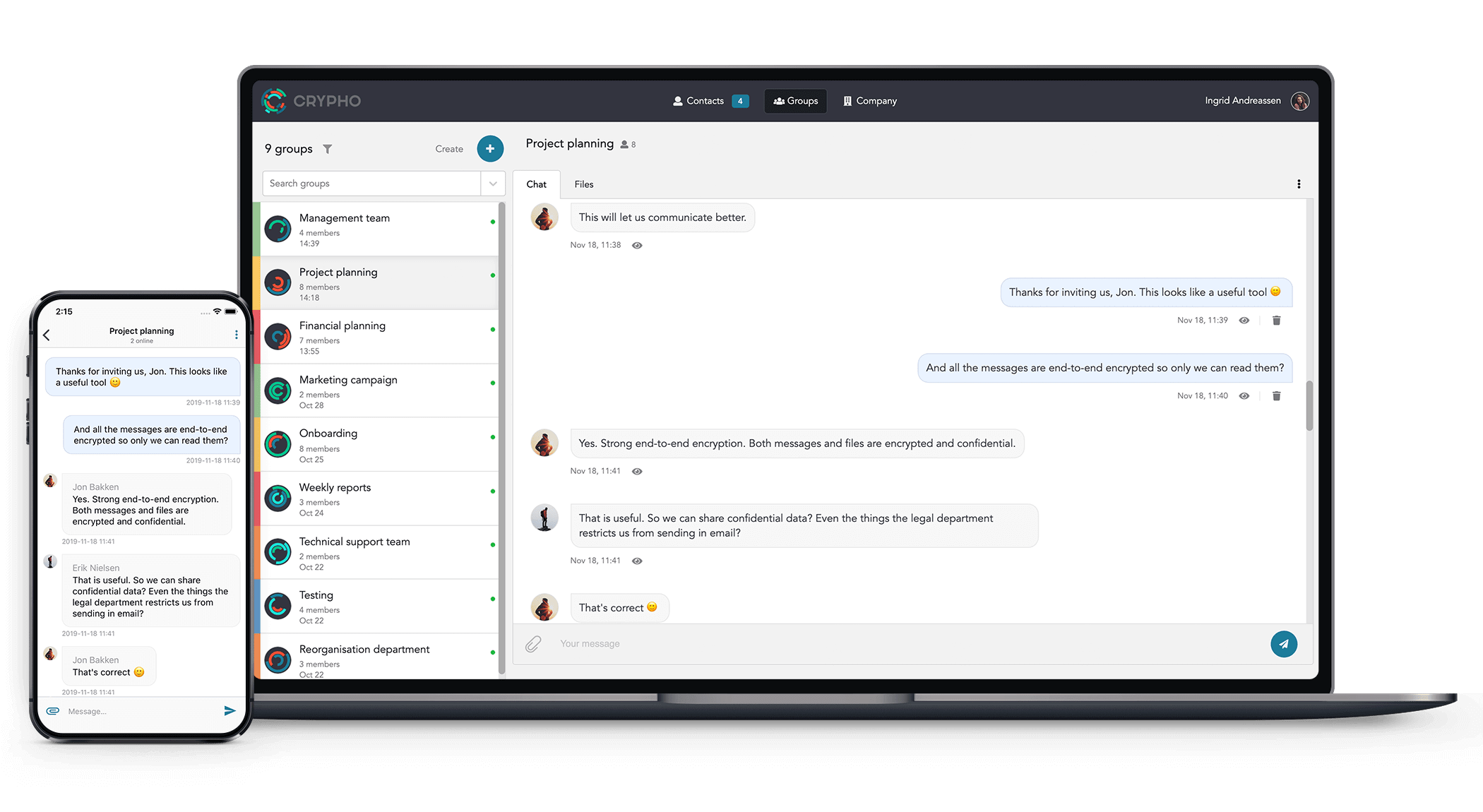 Qualifications
You should have experience building user interfaces with React Native and React. We are searching for do-ers that can build software that works. You will be involved in ideas, planning, architecture, software design, coding, testing and deployment of software.
Skill and productivity are more important to us than a fancy CV. You have a track record of developing actual software solving actual problems.
Required
Comfortable with React and React Native
UX/UI design (mobile and web)
HTML/CSS
Ability to work closely with others and communicate well.
Sense of humour
Bonus skills
Photoshop
Visual design
Usability testing
Open Source contributions
We are a multilingual company, with English as our primary language in the office. Norwegian is not required. You will be able to work with your preferred operating system and your preferred editors, building high-end software together with an experienced team.
We offer competitive pay, 5 weeks vacation and attractive offices in the middle of Tønsberg.
We have no large hierarchies, long processes or office politics. We care about each other. We go above and beyond to make sure that the things we build solve actual problems, not just that the tests pass. We collaborate, work together, give direct feedback, and grow as a team. We try to make awesome world class software while having a good time at the office.
Post corona, partially remote work is possible. We still want to meet a few days a week, so you should be within practical range of Tønsberg.
We'll be happy to take applications from outside Norway if you are prepared to relocate.
Apply here Give us some background about yourself and why you would like to be part of our team. Show us your Github account and a CV or a link to your LinkedIn, plus any other relevant information you would like us to see. Show us things you have built.
No recruiters or remote development companies please. We are looking for in-house developers to join our team.
About Crypho
Crypho is a Norwegian company that delivers high-security enterprise communications with end-to-end encryption; chat, file sharing and video conferencing.
Crypho was established in Norway in 2012 by open source and cryptography veterans. Nowadays Crypho is a trusted partner for a range of government bodies and private sector customers in Norway and internationally. We work with some of the most demanding customers in the field of information security. We help organisations with high security requirements, such as law enforcement, government, health and financial services communicate confidentially and securely. Crypho has received high international acclaim. Crypho won the prestigious Norwegian Rosing award for cybersecurity in 2015, as well as the EU commission's Cyber Security & Privacy Innovation Award. Crypho has offices in Tønsberg, Norway.